Regular price
Sale price
$47.00 USD
Unit price
per
Sale
Sold out
Adunni Organics Glow Kit brightens, hydrates and exfoliates the skin, fades blemishes, spots and stretch marks, and balances the skin tone. Each set comes with a choice of Honey Almond Soap, Cocoa Butter Soap, or Papaya Extract Soap.
Perfect for all skin types, especially those in need of that extra touch to bring out that SKIN GLOW that we all crave.
This bestseller will have your skin looking soft and supple in a matter of weeks, and your bath time experience will never remain the same.
Say goodbye to dry, itchy skin caused by common skin conditions like stretchmarks, scaly skin, eczema, psoriasis, and dermatitis. All of these will be soothed away!

Goat Milk Lotion is a luxurious, light weight, non-greasy body lotion. Richly hydrating and nourishing, it soothes, enhances and protects the skin, keeping it moisturized all day while it promotes collagen formation for increased skin elasticity which makes it a great moisturizer if you are dealing with or trying to prevent stretch marks, spots scars and other blemishes. It does all of this and more while fighting off signs of ageing and keeping the skin soft, supple and clear. It is suitable for all skin types, ages and genders.
Rejuvena Face Custard is a rich yet light weight face cream that nourishes, hydrates, protects and brightens facial skin. It prevents breakouts and also fades dark spots and blemishes. It is formulated with Goat Milk, Niacinamide, Kojic Acid Dipalmitate, Turmeric, Licorice Extract, in a blend of non-comedogenic oils.

Carrot Face Soap cleanses and conditions facial skin, giving a deep cleanse that does not strip the skin of its natural oils, maintaining a healthy skin barrier and building a healthy, youthful glow within a few weeks of consistent use.

Honey Almond Bar Soap is a conditioning bath soap enriched with Honey and Almond Milk to deeply exfoliate and hydrate the skin as it gives a thorough cleanse with a rich, soothing lather. Perfect for hydrating and exfoliating the skin. Best for dry skin.
Cocoa Butter Soap is a mix of Cocoa Butter and Goat Milk in rich blend of oils and butters that will cleanse the skin leaving behind a rich supple sheen within a few weeks of usage. Perfect for fading blemishes, spots and stretch marks. Best for skin with stretch marks.
Coffee Body Scrub is luxurious and detoxifying. Made with real Coffee and Vanilla Beans, and enriched with Goat Milk and Cocoa Powder for extra brightening nourishment. It is a foaming scrub that helps to stimulate blood circulation, and regular use removes dead skin cells to reveal a smoother layer of skin.

What's the secret? It is quite simple. We use only high quality 100% natural ingredients in our products, and we manufacture under strict GMP standards to ensure that each of our products is made to match global excellence.

CONTENT
1 Carrot Face Bar Soap
1 Face Custard
1 Honey Almond Bar Soap or 1 Cocoa Butter Bar Soap
1 Goat Milk Lotion
1 Coffee Body Scrub

USAGE DIRECTIONS
While bathing, use Carrot Face Soap to wash your face, and the Body Soap for your body
Moisturize your face with the Face Custard, and the body with the Goat Milk Lotion.
Use the Coffee Body Scrub to exfoliate once or twice a week. Note that the scrub is not to be used on your face.
Glow Kit is available in 4 variants;
With Cocoa Butter Soap
With Honey Almond Soap
With Cocoa Butter Soap in a box (includes free gift)

With Honey Almond Soap in a box (includes free gift)
Share
View full details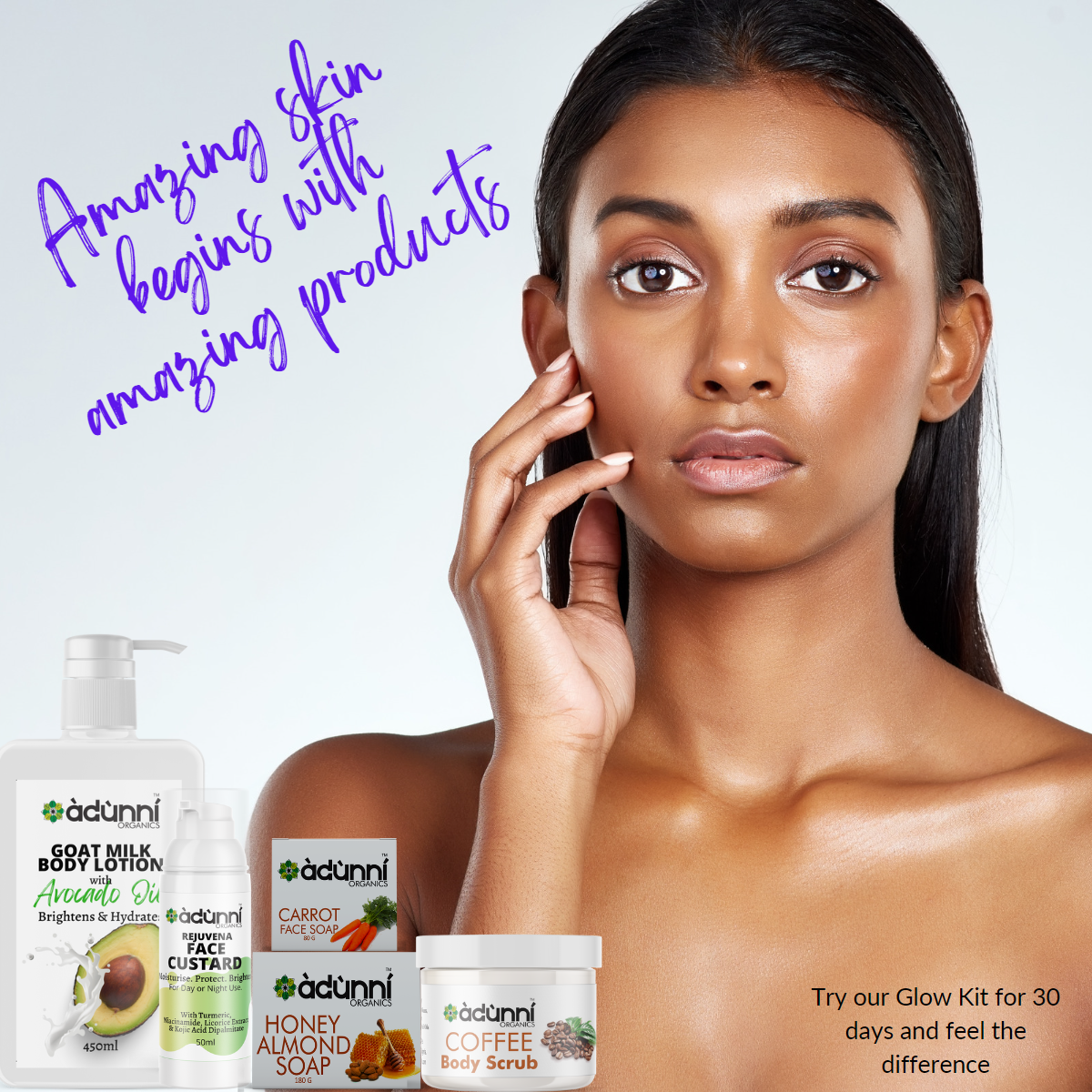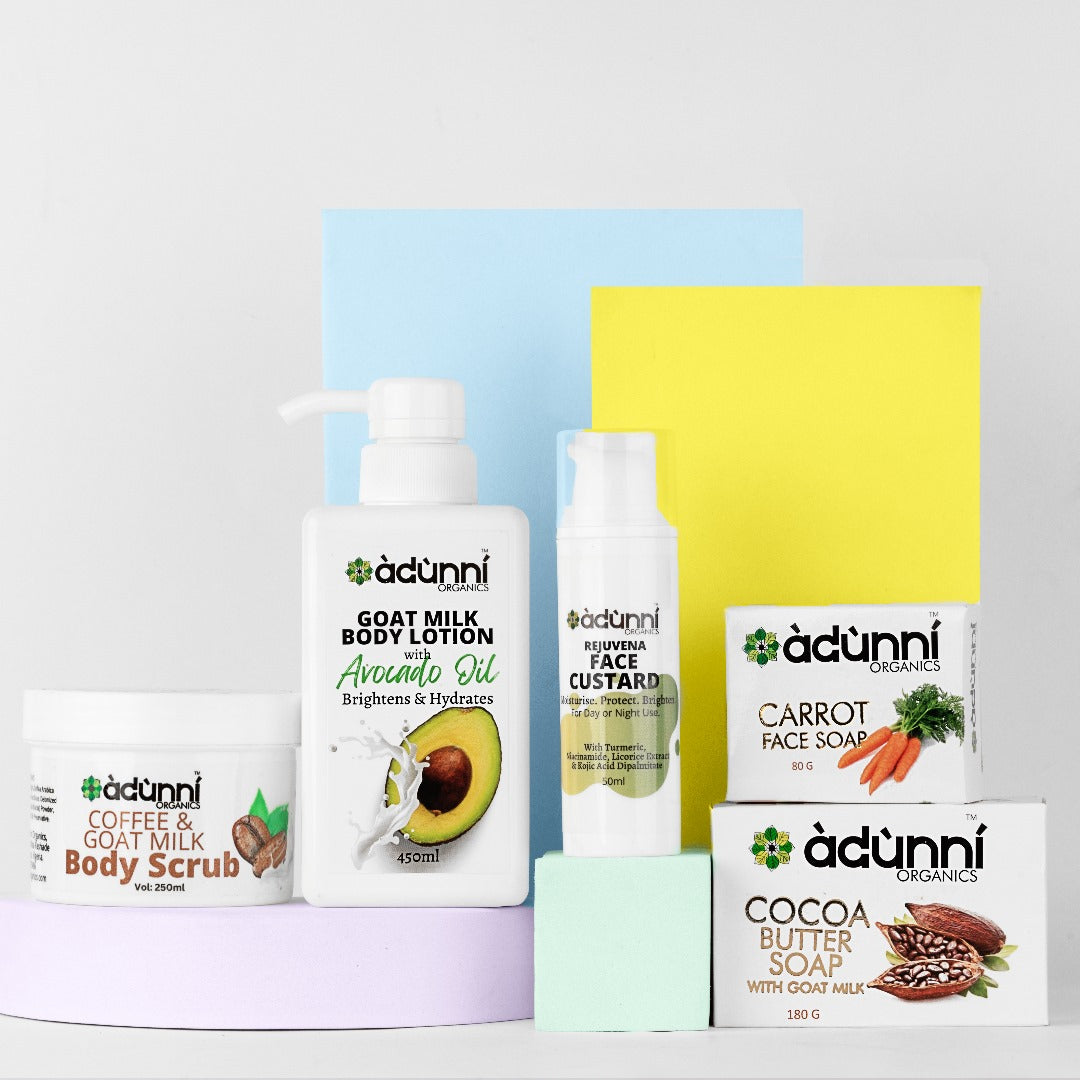 Satisfied
Just two weeks, my face has changed to baby face and the black circle round my eyes that has been my major concern is gradually fading , clearing too. My skin colour is super now. Thanks for your wonderful product. It's Adunni now
Coffee scrub
The product details state that the scrub is a foaming scrub, but the one I received does not foam even after adding a few drops of water to stimulate the foam action since the one I received is dry.
The glow kit and tweens set has a beautiful feel and lovely smell.
Loving this.
Loving this! It feels good, smells nice too. It's been about 2 months, and honestly, I'm glowing.
Loving this so far. The products are pretty and smell nice. I'm glowing too, getting compliments already. Just 3 weeks of use.