Regular price
Sale price
$20.00 USD
Unit price
per
Sale
Sold out
Helps reduce hyperpigmentation. Gentle and gradual skin lightening. Improves Collagen and Elastin proliferation.
Toning Lotion with Berry Extracts is a rich body lotion formulated to lighten the skin, fade spot, scars and blemishes, and gently lighten the skin by 1 or 2 shades.
This lightweight, non-greasy fast absorbing body lotion targets discoloured and hyperpigmented skin. It gently fades the dark skin cast caused by harsh weather, stress, etc. through the mild toning effects of licorice, bearberry, niacinamide and other plant extracts that are known for their natural skin lightening properties.
The difference between this Toning Lotion and others is that we have formulated it using only plant based ingredients in the right quantities and proportions with a knowledge of usage rates that will give results without damaging your skin, health and well being which are our number 1 priority at Adunni Organics.
Formulated only with natural plant oils butters and extracts, this lotion is guaranteed to give you clearer skin without any negative side effects. Excellent for all skin types, Adunni Organics Toning Lotion with Berry Extracts will soothe, hydrate and repair dry skin in just a few uses.
The Toning Lotion has sun protection properties because it contains Alpha Arbutin which can reduce the degree of skin darkening after sun exposure by blocking the production of tyrosinase. (This does not take away the need for a good sunscreen product!)
This gentle but power-packed body lotion provides long lasting moisture and hydration which means that unlike other lightening lotions that deplete your skin, this one will actually replenish and repair your skin! With regular use, your skin will regain suppleness, softness and elasticity.
This all natural toning lotion spreads easily without the greasy, filmy feel often associated with other lotions, and will make your skin feel as if it is wrapped in silk all day long. Consistent use for 2 to 3 months will have your friends asking you what your secret is!
DIRECTIONS: Massage all over skin after bathing.
For best results, use with any Adunni Organics Papaya Extract Soap.
Please note that this is not a whitening or bleaching product.
Share
View full details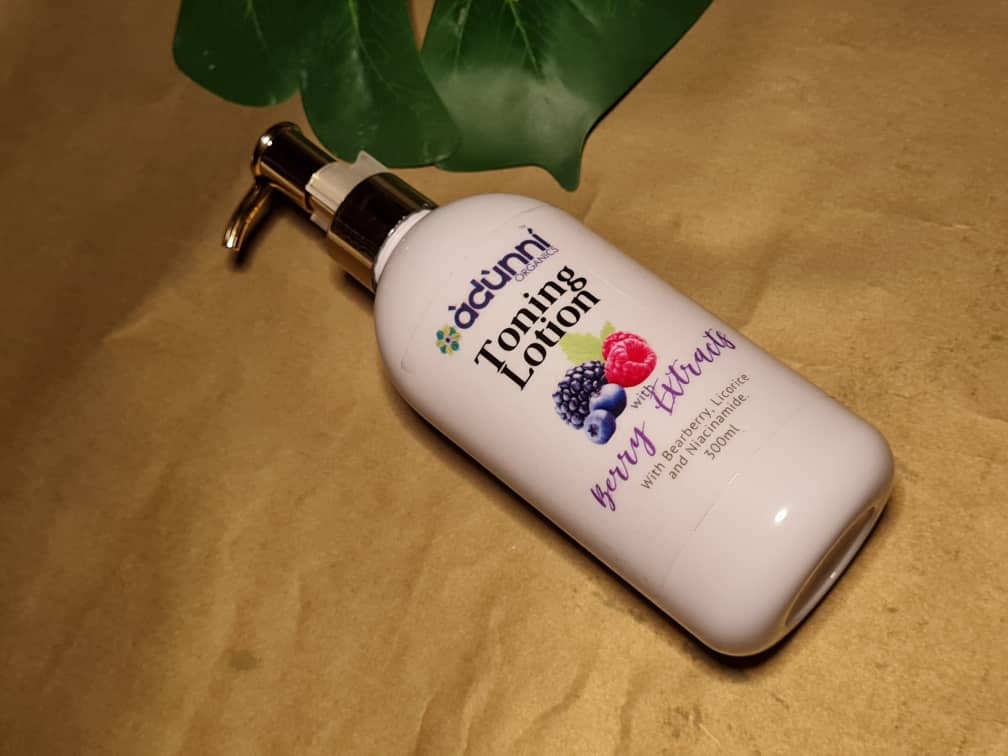 Gentle, safe and effective!
Adunni Toning lotion is packed full of nourishment for the skin, what I love about it, is its sweet and scintillating aroma, never seen a lotion like it before, its so amazing and I really love it.