Regular price
Sale price
$10.00 USD
Unit price
per
Sale
Sold out
Clarifies and polishes skin. Good for head to toe bath. Contains Honey, Rosewater and Lime.
Liquid Black Soap by Adunni Organics is a spin on the famous African Black Soap which is indigenous to the Yoruba People of many West African Countries. In Nigeria, it is known as Ose Dudu and in Ghana it is called Alata Samina. Used for centuries by generations of African Mothers, it is hailed as a solution to many skin conditions like acne, psoriasis and eczema.
Liquid Black Soap from Adunni Organics is rich in Vitamin E which is a skin healer and Vitamin A, a good source of Collagen, It is further enriched with Honey, Rosewater, Lemongrass and Lime to give your skin the awesome goodness that it needs to glow. Our Liquid Black Soap which cleans and exfoliates gently without stripping the skin of its natural oils, is also a great shampoo to use as part of a healthy hair care routine.
Best used with Mango Body Butter and Coffee Body Scrub for an all over skin care routine that will nourish, hydrate and exfoliate the skin to a stunning glow!
Suitable for adults and children from age 5 upwards, and for all skin types. It makes an excellent head to toe body wash, and can double as a shampoo when necessary. No bathroom should be without this amazing product.
INGREDIENTS: Water, Cocoa and Plantain potash, Honey, Rosa Damascene Hydrosol, Lime Essential Oil, Lemongrass Essential Oil
Share
View full details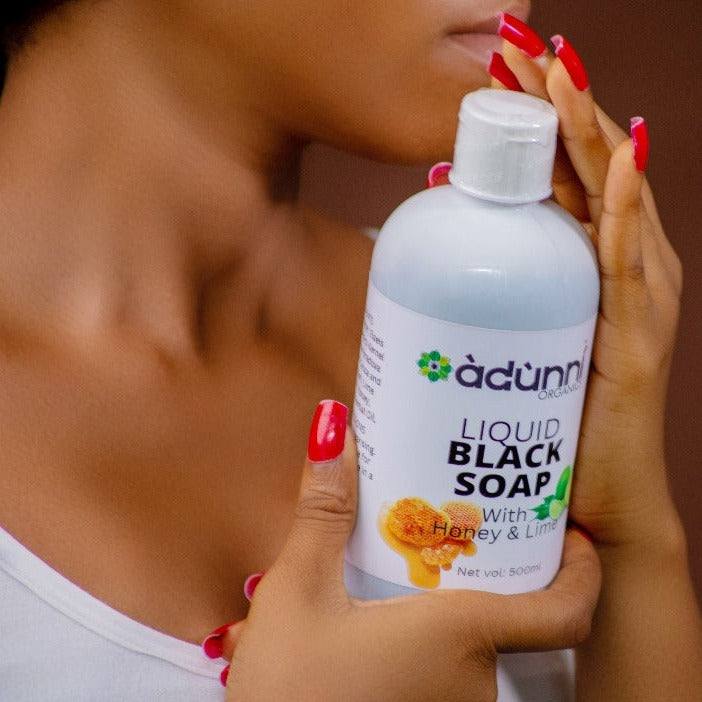 It is very mild on the skin and keeps it healthy and glowing.
All good and lovely scent!
I have dry skin, probably not the right product for me. But I love the lemon grass scent, it is so soothing.
Love the lemoney effect of the soap on my skin and the smell too. I wish the soap can be a bit thicker in texture though but that aside, it's the bomb.com
The soap is so soothing on the skin, and the fragrance is heavenly father