Regular price
Sale price
$7.00 USD
Unit price
per
Sale
Sold out
Polishes and hydrates skin. Our bestseller. The Glowup Soap. Great for all skin types.
Honey Almond Soap is made with Honey and Almonds in a rich blend of natural oils and butters in a formulation which is designed to enrich, soothe and heal dry, mature, weather or chemical damaged skin. Perfect for mature skin types, it is has a velvety smoothness that will leave your skin feeling fresh and new. As the almond Milk heals, the Honey nourishes, and the Almond Chaff exfoliates the old skin cells to reveal the fresh new ones underneath showing off your beautiful skin.
Honey is a healer. With antibacterial and antioxidant properties, it is used all over the world as a preservative and is medicinally used to hasten the healing of wounds and infections. In addition to t his, the Raw Honey lends a soothing aspect to the rich scent of almonds that has made Honey Almond Soap a firm favourite since 2014.
Almonds are rich in Vitamin E which is highly beneficial to the skin, hair and nails. We use both the milk derived form the ALmonds and the chaff from the sieving process which imparts a gentle exfoliating effect on this beautiful family soap, making it excellent for you if you are dealing with spots and scars from acne or other skin conditions.
Give your skin a daily treat with this excellent Honey Almond Soap which combines the healing properties of Honey with the skin enriching power of Sweet Almond Oil and Almond Milk topped with the healing power of Raw Honey harvested in the rich wilderness  in Kaduna Nigeria. Honey Almond Soap is a popular favourite for a reason. Its unique scent, soothing lather, and gentle exfoliation make it a recurring bestseller among our customers, and it never fails to meet their expectations.
As with all of our products at Adunni Organics, Honey Almond Soap is entirely handmade with fresh all-natural ingredients and presented in eco-friendly packaging. NO harmful chemicals or preservatives.
INGREDIENTS: Deionized Water, Saponified Elaeis Guineensis (Palm) Kernel Oil, Vitellaria Paradoxa (Shea) Butter, Brassica Napus (Rapeseed) Oil, Prunus Dulcis (Almond) Honey,  Glycyrrhiza Glabra (Licroice) Extract, Arctostaphylos Uva-Ursi (Bearberry) Powder, Fragrance Oil.
Share
View full details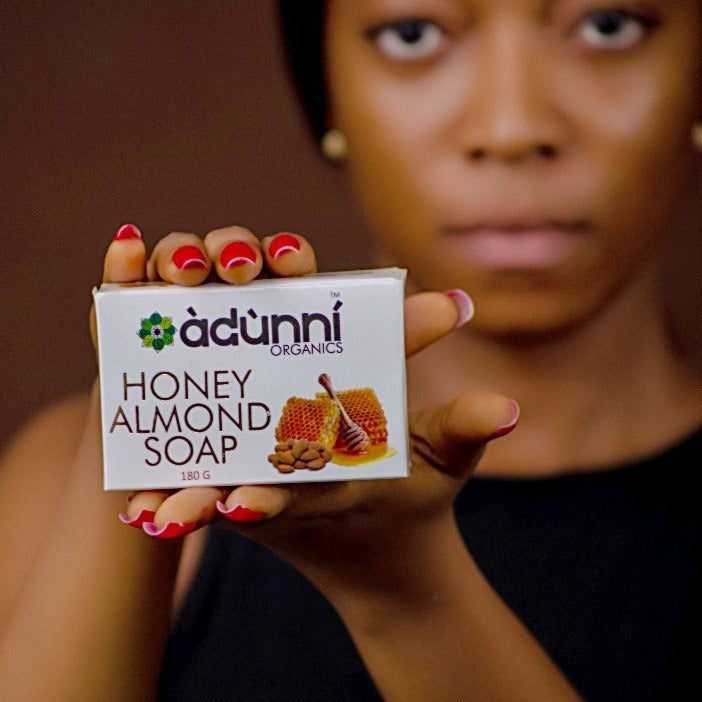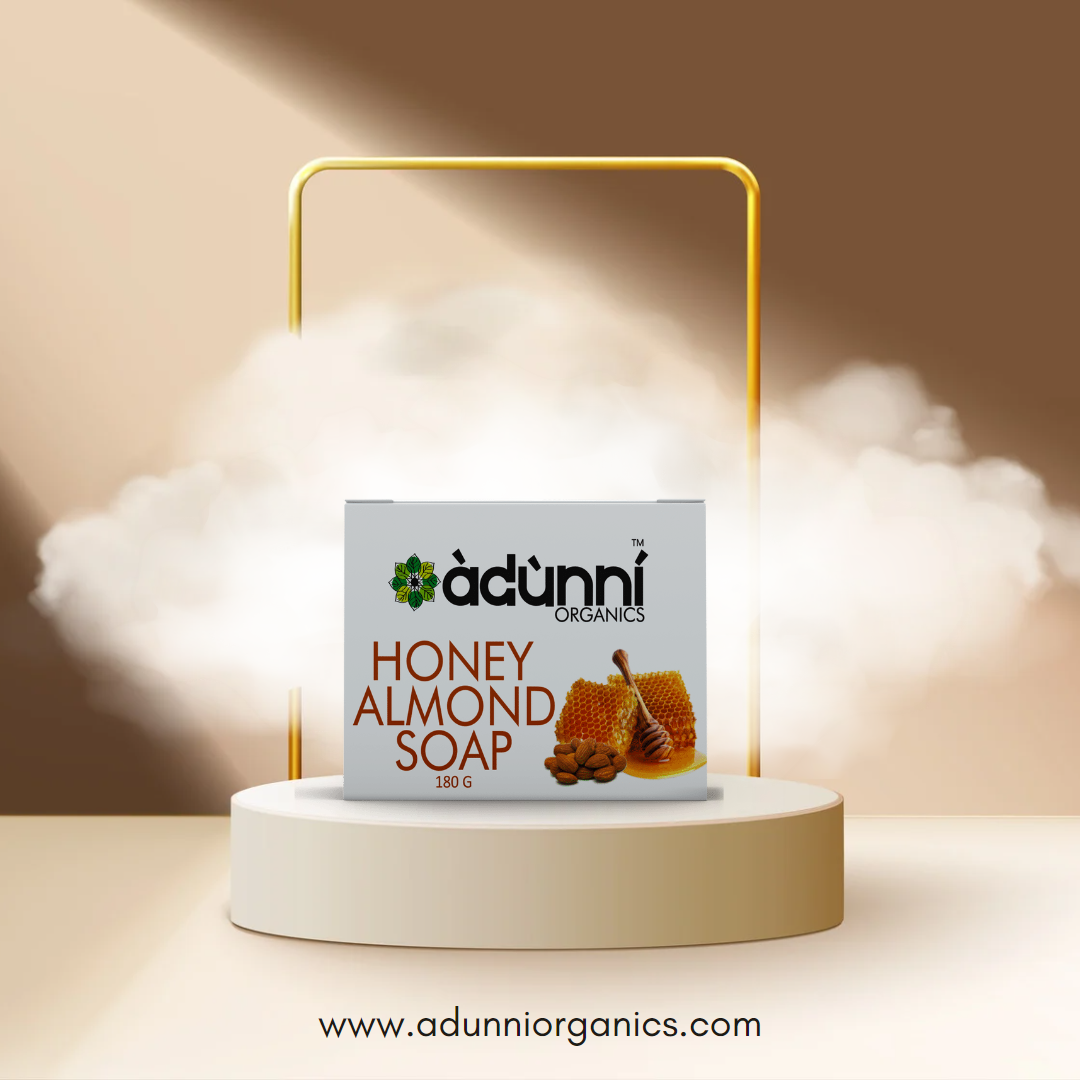 Very thoughtfully done.
The smell, the way it lathers, the feel on my skin. I am spending more time in the shower nw, and my skin feels softer. I have found my staple soap.
My go to soap always. Love the texture and feel after a bath.
Remember buying the body glow kit because my thighs are very brighter than my legs. Very effective and the honey Almond soap smells lovely, feels like eating it sometimes
I like this soap. It helps me manage my body acne and 8tritattio. It helps my skin feel soft and smooth after use. One thing, I would like to be changed is that the soap melts easily.
Also another favourite. Adunni products are da bomb!