Regular price
Sale price
$5.00 USD
Unit price
per
Sale
Sold out
Gentle bath soap for babies age 0 upward. Protects and soothes away common baby skin issues.
Goat milk & Oatmeal Baby Soap from Adunni Organics is a soothing bath soap that is perfect for the most sensitive of skin, especially newborns. It is also wonderful for people with dry or sensitive skin, or conditions such as eczema or psoriasis. For those who want to be like the beautiful Queen Cleopatra who regularly took milk baths, this is the soap for you.
Goat milk & Oatmeal Baby Soap is a rich, creamy bar made with unprocessed, raw goat milk fresh from the farm with its numerous nutrients intact, and Oatmeal infused oils. Herbalists consider Oatmeal to be a very effective herbal remedy for skin problems and an exceptional skin conditioner. Packed full of essential nutrients and vitamins, Goat Milk soothes and hydrates even the most sensitive skin, and creates a rich creamy lather that makes bath time a relaxing experience.
Oatmeal is known for its soothing effect on mind and body, providing soothing relief to the skin, making it perfect for babies delicate skin. Chamomile extract is used to calm red, dry, and irritated skin. It promotes collagen formation. Like most herbs and plants, Oatmeal contains naturally occurring antioxidants that help protect the skin from environmental stressors.
Goat milk & Oatmeal Baby Soap is designed specifically to soothe, nourish and tend to the most delicate of skin types. It is also perfect for particularly sensitive or problematic skin, and can be enjoyed by anyone who likes the soothing calmness offered by Goat milk and Oatmeal.
Use to bathe head to toe. Avoid the eyes please, natural soap is NOT tear free.
Best paired with Adunni Organics Baby Lotion
INGREDIENTS: Deionized water, Saponified Elaeis guineensis (Palm) kernel Oil, Vitellaria paradoxa (Shea) Butter, Brassica napus (Rapeseed) Oil, Elaeis guineensis (Palm) fruit Oil, Goat Milk, Colloidal Avena sativa (Oats), Fragrance oil.
Share
View full details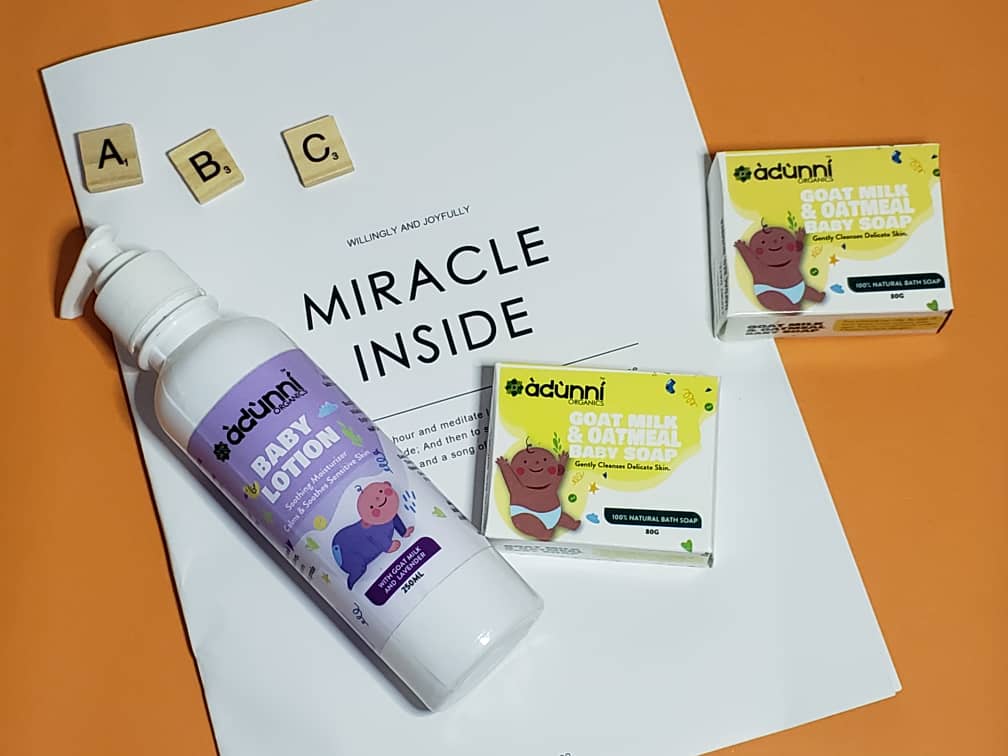 i wasn't wrong to follow my gut to use this as my face soap. this is a star on its own!
Very good and mild on my son's body.
Very nice for my children's skin but please can you have this soap in 180g or a much more bigger size.