Regular price
Sale price
$15.00 USD
Unit price
per
Sale
Sold out
Luxurious, Light weight, non-greasy body lotion. Brightens, gently fades blemishes and hydrates. Suitable for all skin types.
Experience the restorative qualities of nature's richest ingredient - Goat Milk. Nourish your skin with a fresh delivery from our Goat Milk Lotion, because Goat Milk has a pH that is so close to that of your own skin and is comprised of medium chain fatty acids and short protein strands so it is absorbed quickly and easily and stays in the skin, helping to keep it hydrated and beautiful, while its naturally occurring alpha-hydroxy acids aid in cellular renewal, revealing well nourished and creamy skin every few weeks.
Avocado Oil helps to smoothen skin and has amazing anti-aging and acne busting powers, it also has mild sunscreen properties giving extra protection against the harshness of the sun. Added to this are its ability to soothe away sunburn and build the elasticity of the skin, giving you a more youthful, vibrant glow. Whatever sort of skin you have, Adunni Organics Goat Milk Lotion with Avocado Oil will set it right.
Enriched with Niacinamide, a well known antioxidant which brightens the skin and promotes even tone, this lotion is doubly equipped to provide vital proteins to the skin which protect it from stress, weather damage, and environmental contaminants to keep your skin looking good no matter the weather.
The richly hydrating Goat Milk Lotion is designed to nourish, soothe, enhance and protect the skin, keeping your skin moisturized all day while it promotes collagen formation for increased skin elasticity which makes it a great moisturizer if you are dealing with or trying to prevent stretch marks, spots scars and other blemishes. It does all of this and more while fighting off signs of ageing and keeping the skin soft, supple and clear. It is suitable for all skin types, ages and genders.
INGREDIENTS: Deionized Water, Elaeis guineensis (Palm) kernel Oil, Emulsifying Wax, Magnifera Indica (Mango) Butter, Oleea Europaea (Olive) Oil, Niacinamide, Persea Gratissima (Avocado) Oil, Fragrance Oil, Goat Milk, Preservative.
Share
View full details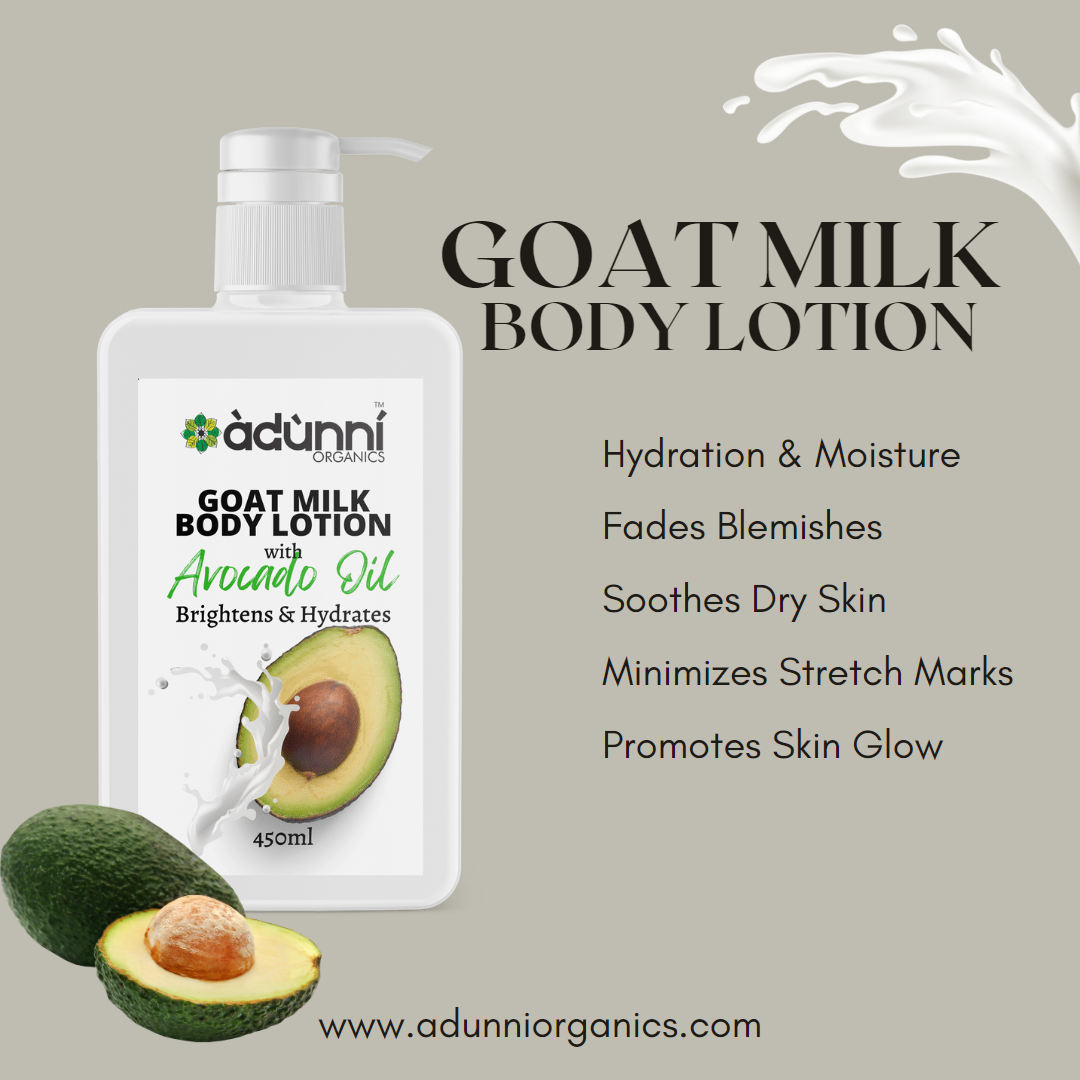 I just love the way it feels on my palms. It moisturizes my skin that is very dry
Goat milk lotion
If you are not using this particular lotion you are missing.
I use this for my children. I love the scent and it seems to moisturize and protect their skin.
Must have moisturizer if you want to glow..
A great lotion, soft and gentle to the touch with a fresh and lovely scent. 400ml of milky goodness❤️