Regular price
Sale price
$12.00 USD
Unit price
per
Sale
Sold out
Boosts Natural Skin Glow
Repairs, Softens and Enhances Skin
Nourishes and Clarifies Skin
Amazing Long Lasting Scent
Lasts Up To 3 Months!
Glow Oil by Adunni is a luxurious non-greasy oil that works to repair skin and polish it to a radiant glow.
Packed with a host of rich antioxidant plant oils, it offers high skin nutrient levels, to moisturize, enhance and polish the skin with a focus on boosting the natural skin glow and treating dry skin patches repairing damaged skin cells and encouraging cell renewal to restore skin's elasticity and smooth surface resulting in the famous #adunniglow
The Glow Oil minimizes the redness and appearance of scars, stretch marks, cellulite, and discolouration for a smoother, vibrant skin surface free of dark patches and irregularities, it helps decrease the appearance of roughness, wrinkles and signs of damage from stress, harsh Product and environmental elements.
This multi-functional oil also helps to improve elasticity and promote healing of damaged skin, making it perfect for application on skin that has been exposed to harsh products.
Glow Oil contains floral and citrus essences (think rose, jasmine and citrus vibes) to revive the mood, lift the spirits and sharpen the senses. It also hydrates and detoxifies the skin. Apply the oil to damp/dry skin or add to your tub for a relaxing bath soak experience.
Uplifting bath and body oil with a zesty, fresh citrus fragrance
A rich blend of botanical and essential oils
Boosts natural skin glow
Repairs, Softens and hydrates dry, tired skin
Use in the bath for a restorative soak or as a massage oil on tired muscles
INGREDIENTS
Sunflower Oil, Palm Kernel Oil, Shea Oil, Carrot Seed Oil, Avocado Oil, Fragrance Oil.
USAGE DIRECTIONS
Rub oil into damp or dry skin after bathing or whenever you need to moisturize.
DO NOT mix this oil with ay other products please.
Share
View full details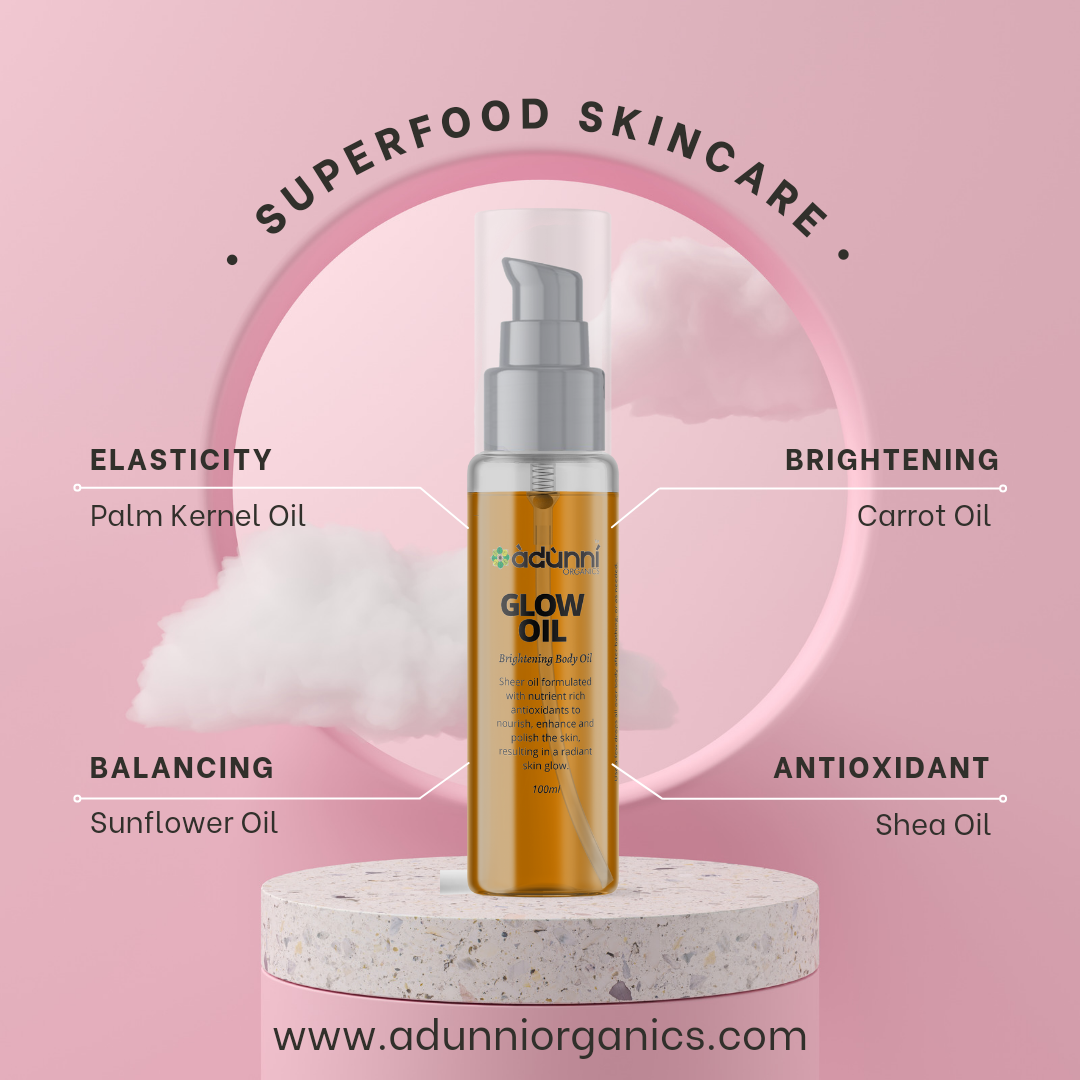 The Glow from this oil is real. Its so soothing on my skin too.
Absolutely amazing products. Easy to us you feel the difference on your skin. Been on it for over a year. No complains
The glow oil is always a winner. I like it.
I love the glow oil, it's the . best
This oil is a great companion for the goat milk lotion. It gives added moisture. Love it ❤️