Regular price
Sale price
$10.00 USD
Unit price
per
Sale
Sold out
Brightening Face cream For all skin types. Clears blemishes. Makes skin glow. Non comedogenic.
Face Custard is a bestseller that has helped a lot of women recover their youthful glow. Great for normal, combination, oily or dry skin, it is carefully formulated with a selection of oils that nourish, replenish and revive facial skin.
Acne, breakouts, spots, blackheads, rough skin, open pores, uneven skin tone, and blemishes all bow to the power of the small but mighty Face Custard which is the best face moisturizer in Nigeria. Regular use for 4 to 6 weeks gives excellent results. Perfect for all skin tones.
Face Custard is a rich, creamy formula replenishes moisture, softens skin and reduces the appearance of fine lines and wrinkles. A  blend of non-comedogenic oils and butters intensely moisturize and replenish the skin, Turmeric firms and protects skin from environmental damage and Goat Milk fights fine lines and reduces signs of stress and fatigue.
Carefully made for all skin types, Face Custard evens skin tone in 4-6 weeks and diminishes the appearance of dark spots in 8 weeks and is gentle enough for even the most sensitive of skin types. This amazing facial elixir moisturizes to keep your skin soft & supple, nourishes skin with vitamins A, B, C & D and harmonizes with the pH of delicate facial skin to create a smooth, fresh dewy look that you will love.
Directions:
1. Apply a small amount to clean face, rub in or pat on where needed. A little bit goes a very long way.
2. Re-apply as needed to dry spots that need extra moisture.
3. Use as a day cream or night cream.
This product is formulated with natural preservatives, and should be used with clean hands to avoid contamination. (You should never apply ANY facial products with anything but clean hands!!)
Please use up within 6 months of opening.
INGREDIENTS: Deionized Water, Helianthus Annus L (Sunflower) Oil, Emulsifying Wax, Vitellaria Paradoxa (Shea) Butter, Niacinamide, Kojic Acid Dipalmitate, Isopropyl Mysristate, Magnifera Indica (Mango) Butter, Curcuma Longa (Turmeric) Extract, Glycyrrhiza Glabra (Licroice) Extract, Fragrance Oil, Goat Milk, Preservative.
Share
View full details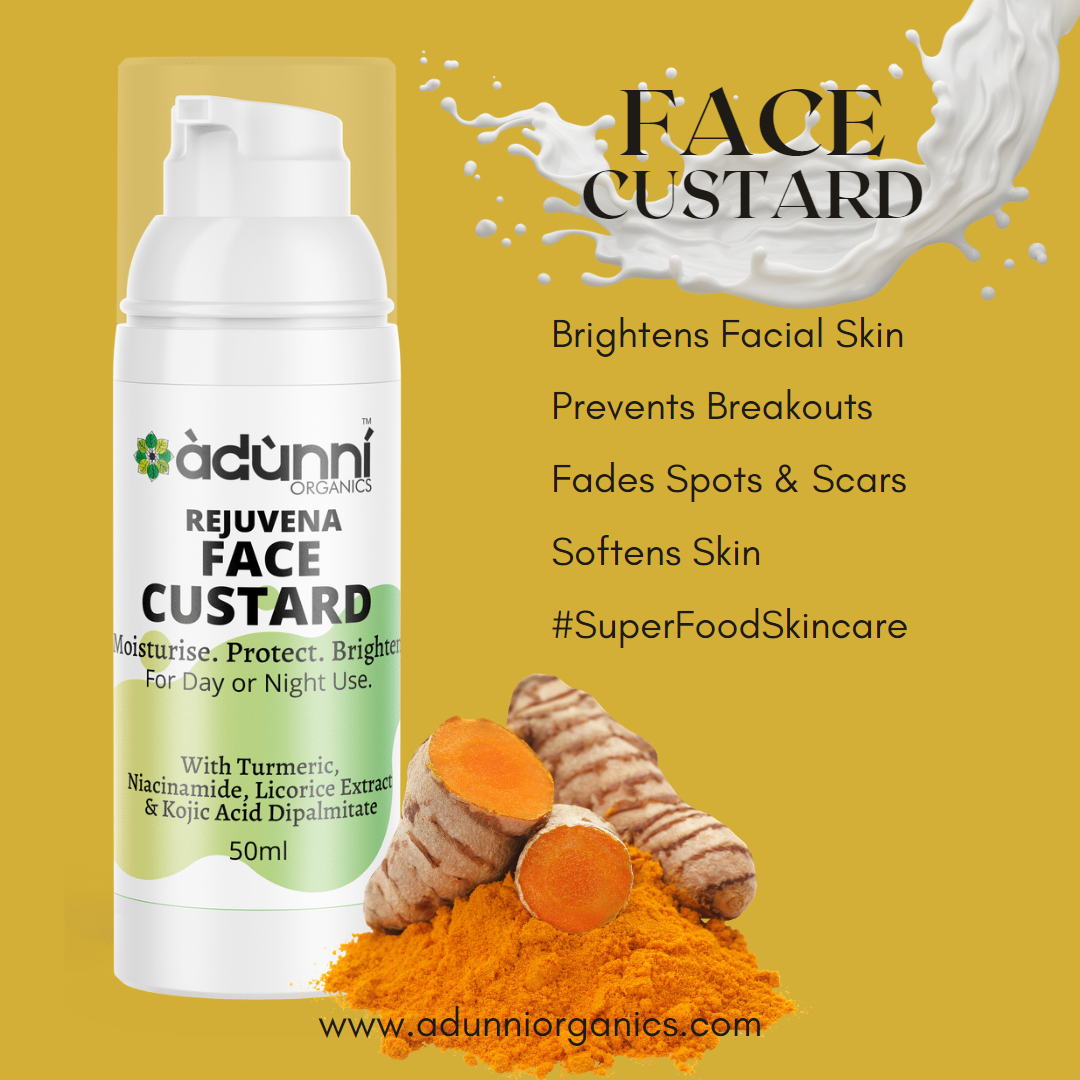 Face custard
This as to be the best because the way my face is glowing
Gives radiant look @100%
This face custard is bomb. How did you guys do it ?looks and taste like custard(mistakenly touch my mouth😁).so many compliments from friends looking so radiant
Nice packaging👍One will never know its local content.
weldone guys
A keeper
The face custard gradually fades scars and spots…emphasis on gradual. You will have to equally be consistent.
My face was battered with hyperpigmentation and acne scars when I started using this; I am on my second bottle and my face is almost fully cleared. I don't need to wear makeup to cover up scars. It brought out my naturally glowing skin back.
It is definitely a keeper.
Brighter complexion.
I started using this product on my face and neck in May. Before then, I used to deal with dark colouration around my neck and chest and cleavage.
What did this product do to me?
It brightened my face, did away with my dark colouration and brightened my complexion all round.
My friends keep commenting on how I'm getting brighter and brighter and glowing.
Did I mention the smell? It actually smells like custard. My friend and colleague saw my complexion and bought his.
Thank you Adunni.
As always, I love it. I am even going to get the whole range of the improved products.