Regular price
Sale price
$10.00 USD
Unit price
per
Sale
Sold out
Exfoliates, conditions, brightens. Fades stretchmarks. Foams mildly.
Coffee & Goat Milk Body Scrub is fabulous and detoxifying. Made with real Coffee Beans and enriched with Goat  Milk and Cocoa Powder for extra brightening nourishment. It is creamy and moisturizing and helps to stimulate blood circulation, and removes dead skin cells to reveal a smoother layer of skin.
Exfoliating with sugar increases circulation, stimulates the lymphatic system (which moves toxins out of the body), makes your skin glow, and even helps tone and firm your body. Ground coffee beans are natural exfoliants and encourage skin rejuvenation. They also stimulate blood flow which helps to reduce the appearance of cellulite, stretch marks, eczema and other skin conditions. Vanilla has natural antibacterial properties and is rich in antioxidants, promoting healthy skin. Goat Milk contains natural Alpha Hydroxy Acids which polish and brighten the skin to give a clearer complexion.
A skin pampering mix of coffee, goat milk and vanilla. Use our Coffee & Goat Milk Body Scrub to exfoliate weekly for brighter, visibly clearer skin! Relax your mind, find your focus and feel the luxurious scent of vanilla calm your senses.  This body scrub is formulated to foam as you use it and wash off clean, leaving your skin smelling fresh and good as new!
Directions:
Massage Coffee & Goat Milk Body Scrub over clean, damp skin using gentle pressure and small, circular motions concentrating on dry, rough areas such as elbows, knees and heels.
Rinse with warm water and pat skin dry with a towel.
Use no more than once or twice a week. We do not recommend this scrub for use no the face as the coffee and sugar grans could be a bit much for the delicate skin of the face, but if you choose to use it on your face, apply with caution.
Scoop with a clean dry spoon each time you use it to get the best of its shelf life.
Note that the Coffee & Goat Milk Body Scrub is not meant to be applied harshly; your skin is not a pair of jeans..🫠
INGREDIENTS: Raw cane sugar, soap base, deionized water, Nigerian Coffea arabica (coffee) beans, Theobroma cacao (cocoa) powder, goat milk, fragrance oil, preservative.
Share
View full details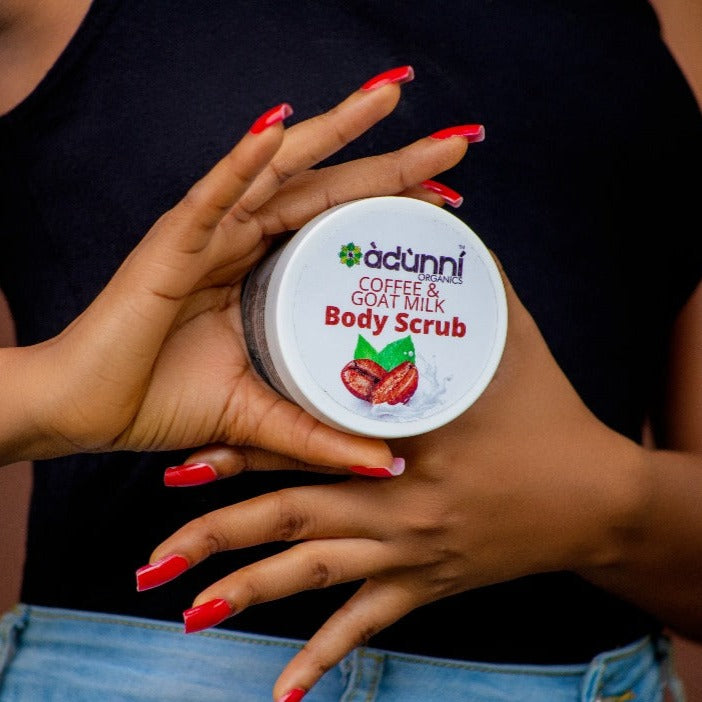 The goat milk coffee scrub Is a bomb 😍, leaves my skin so soft fresh and moisturized
Cleanses and exfoliates my skin beautifully🥰
I love the scrub so much. You can feel the effect instantly. Smooth skin afterwards. The only issue is it's kinda dry so I always mix in extra honey when I want to use. Other than that,5 stars
Great fragrance and lovely feel on the skin.