Regular price
Sale price
$39.00 USD
Unit price
per
Sale
Sold out
Body Glow Kit brightens, hydrates and exfoliates the skin, fades stretch marks and other blemishes, and balances the skin. Perfect for all skin types, especially those in need of that extra touch to bring out that SKIN GLOW that we all crave.
This bestseller will have your skin looking soft and supple in a matter of weeks, and your bath time experience will never remain the same. Say goodbye to dry, itchy skin caused by common skin conditions like stretchmarks, scaly skin, eczema, psoriasis, and dermatitis. All of these will be soothed away!
Highly recommended for pregnant women, new mums, or skin that needs replenishment after a period of stress/illness, or if you just want to keep your skin looking on point!
Body Glow Kit is a combination of Goat Milk Lotion, Honey Almond Soap, Cocoa Butter Soap, and Coffee Body Scrub. This kit will brighten the skin and polish it to a radiant SKIN GLOW.
This kit will last up to 3 months depending on usage and will give results within 6 weeks of consistent use! Best used twice daily to bathe and moisturize while the scrub is used to exfoliate once a week.
What's the secret? It is quite simple. We use only high quality 100% natural ingredients in our products, and we manufacture under strict GMP standards to ensure that each of our products is made to match global excellence.
Usage.
Use the soaps to bathe (you can start with either the Cocoa Butter Soap or the Honey Almond Soap and continue with the other one when the first has finished) and moisturize with the Goat Milk Lotion once or twice daily.
Use the Coffee Body Scrub to exfoliate once or twice a week, focusing on the areas of concern.
Note that the Coffee Scrub is for the body and not the face. It is also not meant to be applied harshly; your skin is not a pair of jeans..🫠
Share
View full details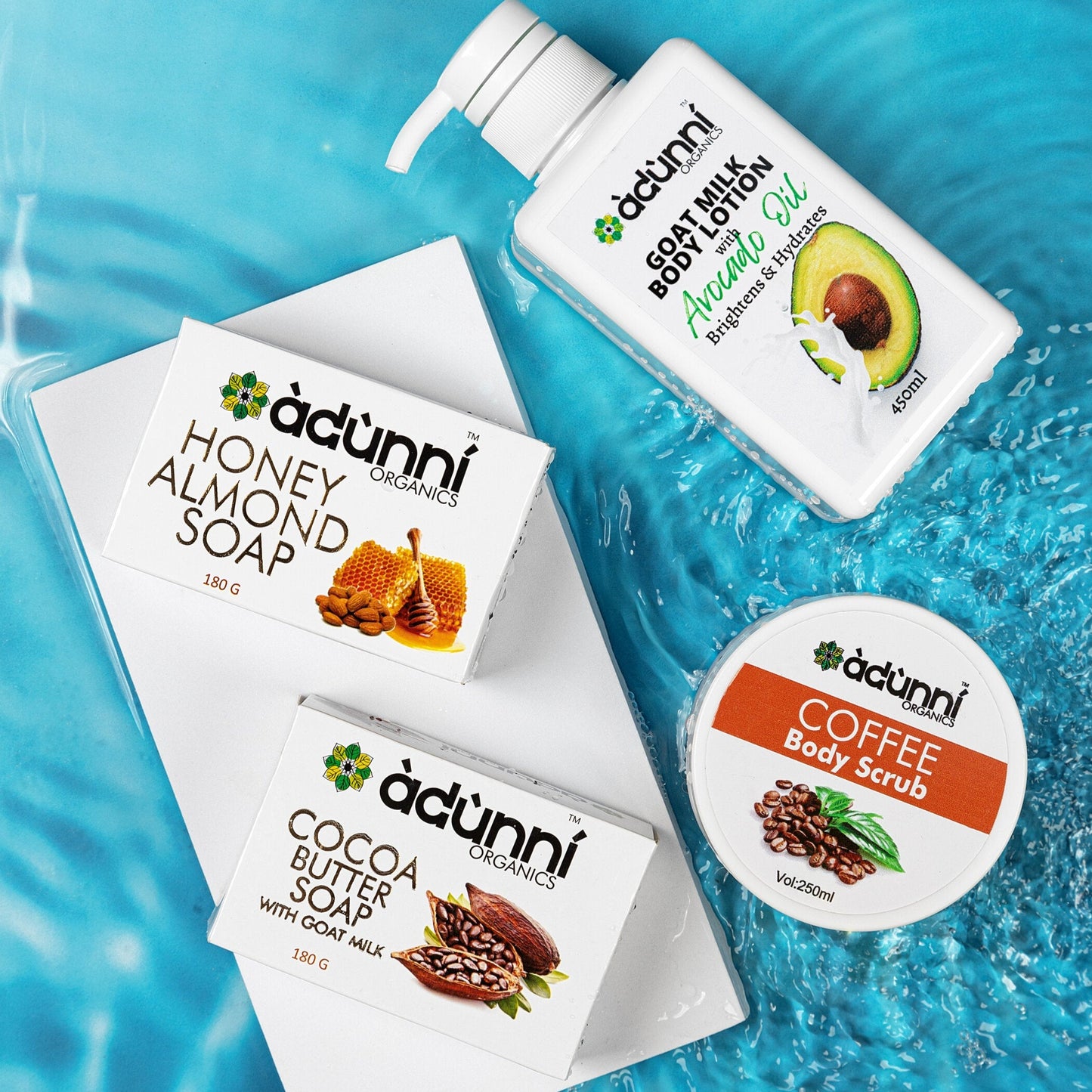 The products work as well as advertised, maybe even better! Already seeing results 1 week in!
Dis package is my favorite, I love it. Keep it up
Can this work for black skin? My skin is sensitive hence don't need anything bleach.
The kit is the truth. My glow is blinding and smooth. I didn't even notice until I started receiving compliments. Thanks Adunni.
In your description, you said that results are visible in 6 weeks. No na. Changes were visible on my skin barely two weeks in. The product works! The glow is blinding. I mean every word. I can't wait to try other products. Good job, Adunni.